In the Spotlight
A brief glimpse into world famous Mallory Pugh
---
By Team Speed Admin - August 16, 2019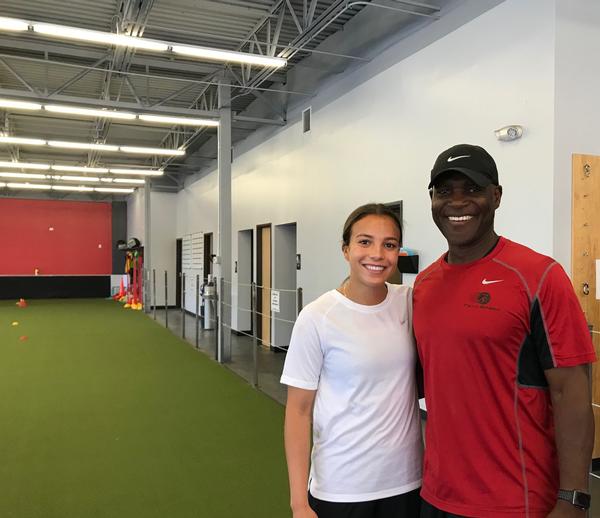 Following her 2nd big win at the Women's World Cup in 2019, we had the pleasure of sitting down with the world-famous Mallory Pugh and asked her a few brief questions about herself, her game preparation, and her training here at Sterling's Team Speed. Here is a small look into that amazing athlete:
Having achieved so much already, what are your goals? Is planning for your future a priority for you, or do you try to live in the moment?
There's so much more that I want to try and achieve but I think it's important to keep your goals close to you.
How do you mentally and physically prepare for your games? Is preparation important, or does spontaneity win out?
Preparing for a game is day to day for me. Every day is different therefore how I prepare might be different. The one thing that stays the same is making sure I get into "the zone". Making sure to block out any outside noise and completely be free on the field.
What about your sport brings you the most joy? What about your sport do you find the most challenging?
The relationships and opportunities I have built bring me the most joy. I think fighting for equality is the hardest thing. 
How do you feel knowing that you are a role model to little soccer players everywhere? What is the advice you would give to those aspiring to follow in your footsteps?
It means everything to me. I remember when I was younger, I wanted to be an inspiration and role model to people all around the world and now that it's happening is such an amazing thing. My advice would to always find the joy of the game and find the beauty in challenges that you face. 
What sets your training at Sterling's Team Speed apart from the way you train elsewhere? How has working with Sterling made a difference in your athletic career?
When I become better is when I'm pushed past my comfort level and when I'm training at Sterling's I'm constantly getting pushed passed that level therefore I know I am getting better. Also, Sterling is one of the most experienced and knowledgeable trainers there is so I trust him with my training.

 Of course there is so much more to Mallory, or 'Mal" as her friends and family adoringly refer to her, than her professional athletic career. As she shows so clearly in her answers above, she is an ambassador for feminism and equality. She also takes her duty as a role model very seriously. Only someone with a heart of gold could play with such intensity and have more than enough love leftover to spread around to each person whose life she has touched. She is a local celebrity, but whenever she steps into the gym to train, she isn't consumed by her success - Mal is one of the most down to Earth athletes' that we have had the unique pleasure of working with. She works hard and it shows! We are honored to have you as a part our team at Sterling's Team Speed. 
Go Back