Interview with Mallory Pugh, US Women's National Soccer Team Player
---
By Team Speed - February 27, 2019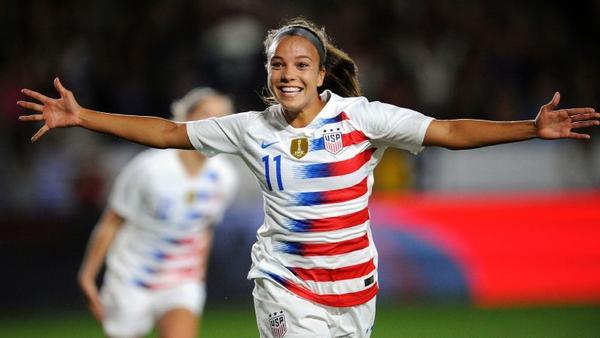 At just 20 years old, Mallory Pugh, a Highlands Ranch native, has joined the US women's Olympic soccer team to help them take home the FIFA World Cup for the second time in a row. Mallory Pugh has been training with Sterling's Team Speed since she was 10 years old. We are so honored to be on this journey with her and are constantly inspired by all that she has achieved.
We asked Mallory Pugh if she'd be willing to interview with us to give our clients and followers a glimpse into her life and what has aided in her success. She agreed! So, we took it to Instagram to see what our followers wanted to learn about her, and here's what they asked:

What did your life look like before you made the USWNT?
My life before the USWNT was not your typical teenage life. I was traveling a lot on the youth teams and was rarely at school. Anytime I was home, I would spend time with my friends and family as much as I could and of course play club soccer.
What does the typical day of a USWNT player look like?
What my days look like depend on if I'm in season or out of season, but usually I will wake up around 7:30 or 8am to train. This consists of lifting or speed training. Then, I will take a little break and go again in the afternoon to do some soccer training. Anytime I get the chance to rest I take it because I'm usually so tired from training. I will usually wind down around 6pm to eat dinner and typically go to bed around 9:30 or 10. I train 6 days a week.
What is your favorite training drill?
My favorite drill is anything that has to do with going to goal. Usually that is finishing -- working on different types of finishing.
What is your biggest piece of advice for someone wanting to play for the US team/collegiate level?
My advice for someone who is looking to play at the collegiate or national level is to always have fun. You can't take it too seriously because that's when you put stress on yourself, so have fun with the game. You will have to work extremely hard though, and there will be times when you will have to sacrifice certain things to get better. Later down the road you learn that if you're doing what you love and having fun, those weren't sacrifices in the first place.
What do you tell yourself when you don't perform your best?
I'm usually really hard on myself when it comes to everything in life. But when I don't perform well, I analyze what I did wrong and ask myself what I can do better. I don't dwell on it for too long because ultimately you need to move on and learn from your mistakes.
How did you/do you improve your stamina?
Soccer is an endurance-based sport so running is a big part of the game. I will mix up my trainings with more HI speed running and extensive endurance runs. It varies and I usually will do this with Sterling at Team Speed.
What is your favorite thing about playing for the USWNT?
My favorite thing about playing for the USWNT is getting to do what I love at the highest level while representing something so much bigger than myself. Also, the relationships and opportunities I have gained are my favorites too.
What are your favorite clothing stores and brands?
I love fashion and I don't really have any favorite clothing brands because I really like to shop all over.
What is your go-to pregame meal?
My pregame meal mainly consists of gluten free oats with a banana and a sweet potato.
What has helped you the most in being so successful and getting to where you are today?
My support system and keeping my sight set on my dreams and goals that I have had since I was little have helped me be successful.
What role has Sterling's Team Speed played in your success? Would you recommend their training for others aspiring to accomplish what you have?
Sterling's Team Speed has played a huge role in my career. I have been training with Sterling since I was 10 and it has benefitted my game immensely. I am able to get pushed to my limits by Sterling and since I have been training with him for so long, he has learned what is best for me. The different drills and programs created at Sterling's Team Speed are ones you don't necessarily see anywhere else. I have also had a lot of injuries and every time I rehab there, I come back stronger and healthier than before. They have been a huge support system for me and I know that they always have my back -- it is one big family. I can't thank them enough for everything that they have done for me!
Go Back